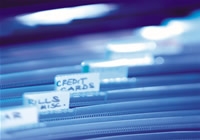 We request documents to help us evaluate your potential application for a mortgage loan. 
The following documents may be requested to obtain new mortgage loan:
Past two (2) years W-2 statements and Federal tax returns
Pay Stubs covering the last (30) thirty days
Two most recent monthly bank statements
Most recent statement for any Assets. IE: 401K, IRA, Mutual Fund Accounts, or Stocks
If you own a home, most recent mortgage statement.
Different programs require varying amounts of documentation. The loan program you select may require more or less documentation. Please contact us for a free, no-obligation consultation.